(I've been reading the stories that got both Hugo and Nebula nominations. To see all the posts in the series, check the "Joint SFF Nominations" tag.)
You may have noticed something weird about this series. Apart from the two posts where Anne McCaffery showed up, the author lists have so far been entirely male. It's not that no women have had Hugo and Nebula nominations, but only McCaffery ever managed to get a story on both lists in any given year. Yes, I'm tired of it, too.
So it's a relief that this latest post includes three women. That's out of 11 authors, only 27 per cent, and it should be noted that at this point the voters still thought James Tiptree, Jr. was a man. It will be decades before the shortlists are as likely to be all women as all men. But what the hell, 27 percent is better than zero. We're finally evening out the Dude Ratio in:
1973
The novels that made both the Hugo and Nebula shortlists in 1973 were Isaac Asimov's The Gods Themselves, David Gerrold's When HARLIE Was One, and The Book of Skulls and Dying Inside by Robert Silverberg. The Gods Themselves won both awards, due not so much to quality as to a general feeling that it was great this old guy was still writing. It was a bland year for novels.
On the other hand, it was a strong year for short fiction. The stories that made both shortlists, most of them great, were:
Poul Anderson, "Goat Song" (Won the Nebula and Hugo for Best Novelette): A singer descends into a high-tech underworld to plead for the resurrection of his true love, and is told she'll follow him out, but he's not supposed to look… have I read this one before?
Arthur C. Clarke, "A Meeting with Medusa" (Won the Nebula for Best Novella): Detailed in the last post.
Gardner Dozois, "A Kingdom by the Sea": A slaughterhouse worker forges a connection with an alien intelligence in his dreams.
Harlan Ellison, "Basilisk": A prisoner of war with a strange power returns to a hometown where he's a scapegoat for his country's loss.
Ursula K. Le Guin, "The Word for World Is Forest" (Won the Hugo for Best Novella): The peaceful Athsheans learn to fight their human colonizers.
Frederik Pohl, "The Gold at the Starbow's End": A stagnant, collapsing America sends its eight smartest people into space to do some basic research without distractions. The plan goes horribly right.
William Rotsler, "Patron of the Arts": There's a new art form incorporating holograms and recorded sensations. The narrator commissions a portrait of his wife.
Joanna Russ, "When It Changed" (Won the Nebula for Best Short Story): A planet of only women makes their first contact with men in a few centuries, and they're not enthused.
Robert Silverberg, "When We Went to See the End of the World": A time travel agency offers trips to see the end of the world. It's briefly fashionable, then people move on to other things.
James Tiptree, Jr., "And I Awoke and Found Me Here on the Cold Hill's Side": Humanity is obsessed with aliens, because they're hot. Like, way too hot.
Gene Wolfe, "The Fifth Head of Cerberus": A boy discovers disconcerting things about his origins.
The first recurring theme for 1973 is long titles. A lot of these titles are very long! I'm going to abbreviate them because I'm lazy.
Less trivially, the key word for 1973 is disillusionment. These are not bright futures. They're stories of failure, collapse, or pyrrhic victory. They're often angry; "The Word for World is Forest" is the bluntest thing Ursula K. Le Guin ever wrote, and "Basilisk" is by Harlan Ellison. Now that it's over we're finally starting to see stories engage directly with the Vietnam war, and these are our main examples for 1973. (Other stories show oblique influence: ubiquitous political protests are part of the background in "The Gold at the Starbow's End," and the far-future colony in "The Fifth Head of Cerberus" is culturally French.) They also exemplify a couple of major themes for 1973, which makes them great stories to start off the next couple of sections.
Live and Don't Learn
In "Basilisk" Vernon Lestig comes home from his stint as a P.O.W. after breaking under torture and talking. His family has fled their home, his girlfriend married someone else, and a mob shows up to administer a beating. The army cleared Vernon, but he's guilty of contradicting the stories people tell themselves about the war. American soldiers are heroes, and heroes don't break. Vernon's normal, unheroic, human breakdown is an awkward reminder of America's fallibility.
Luckily for Vernon he's merged with something alien, a basilisk that kills with a breath or a glance. He confronts the mob in the town square and gives them a brief lesson in pain and terror. Then a woman pulls out a gun and blows his head off while screaming "For Kennyyyy!" and everyone goes home thinking they sure showed him. This feels prescient; in the decades to come the U.S. would repeatedly pick fights—in Grenada, in Panama, in Iraq—to prove to itself it could so win a war, to overwrite Vietnam with the straightforwardly heroic and victorious popular memory of Word War II.
"Basilisk" is a story where nothing is learned, and it's in good company. Our first major theme for 1973 is stasis. These stories put positive change in the same epistemic category as Santa Claus and the Tooth Fairy. Problems aren't solvable. People can't break out of patterns; they resist epiphanies.
"Goat Song" and "A Kingdom By the Sea"
Take "Goat Song." I don't have much to say about "Goat Song." You know the story. The hero is Orpheus, a giant computer named SUM is Hades, a woman who serves as SUM's avatar is Persephone. SUM has Eurydice saved on a hard drive. There are Maenads. Orpheus fails his one big test. As usual. That's the problem with this overstuffed subgenre of myth and fairy tale retellings; I haven't just heard this one, I've heard it a million times. Right where should be moved to pity I'm just thinking "For crying out loud, not again, Orpheus." When he strolls off to his futile dismemberment I'm relieved to be rid of him.
Anderson said "Goat Song" was inspired by "I Have No Mouth and I Must Scream" in that it takes place in a world masterminded by an AI (instead of AM, we have SUM). The comparison doesn't help it. This is the weakest story in the batch—not bad, but not better than okay. If you're into SFF you know this theme: Earth is a peaceful, pastoral Garden of Eden managed by SUM for the happiness of all, and it sucks. Struggle is good for you! When the world provides everything for everyone people lose touch with the Human Spirit! Orpheus is a great poet because he the only bastard miserable enough to stay in touch with Higher Things.
It's interesting to compare Gardner Dozois' "A Kingdom by the Sea." The title references "Annabel Lee," an Edgar Allan Poe poem about a man who is, as is standard for Poe heroes (technical term: "Poetagonists"), pining for his dead lover.
Mason works in a slaughterhouse. He's the guy who hits cows on the head with a sledgehammer. He lives in a tiny apartment in a gray city, eating frozen pizza that tastes of spaghetti sauce and cardboard. Somehow, without noticing, he's passed the better part of a decade like this: "He will never hit the road again, he is here to stay. His future has become his past without ever touching the present."
Someone comes to Mason in his dreams. Like "Basilisk," this is the story of a worn-down schlub whose life is momentarily improved by something alien. The presence is female, and Mason loves her but also seems to identify with her: "He found her, wrapped in the underbelly of himself like a pearl: a tiny exquisite irritant," and she "blended [Mason] into herself" and "He merged with her forever." Every night the presence gets closer, until one day Mason wakes feeling he's finally going to meet her. He does. He recognizes her in the eyes of the day's first doomed cow, just as it's too late to stop himself from bringing down the hammer.
"Kingdom" is barely SFF—it's a character study, and it's debatable whether anything truly fantastic is happening here at all. Is Mason a telepath whose soul mate is a cow? Is he lost in his imagination? Your interpretation depends on which genre you expect when you read the story. Which makes it a surprising nominee. But Mason might have been an identification figure for fans, who often use SFF as an escape from an all too mundane reality. The presence is an obvious metaphor for Mason's intuition that there must be more to life than this, a yearning for something undefined but numinous. This is a common wish-fulfillment fantasy in SFF—discovering magic in the world, or a science fictional phenomenon sparking the proverbial sense of wonder. But Mason's dreams are brained by the hammer of poverty and routine. He can't imagine a way out of his predicament.
For a fifty year old story, "Kingdom By the Sea" feels dreadfully contemporary. Right now, an entire economic category of Americans feel ground down in inadequately paid, inadequately respected service jobs. They're carrying mounds of debt, paying for surgeries with GoFundMes, too tired, sometimes, to dream. "Kingdom" is arguing with "Goat Song:" in a world that cares for no one and provides nothing without a struggle, people lose touch with the Human Spirit. Anderson looks at the modern world from the right and thinks it's too soft, Dozois examines it from the left—more accurately, I think—and sees a world that's too hard. These are worlds to stagnate, not flourish, in.
"Patron of the Arts"
Orpheus sends Eurydice back to hell. Mason kills in reality the creature he loved in his dreams. In "And I Awoke," which I'll cover later, aliens take a heavy toll on their human lovers. Most of these dysfunctional relationships are specifically failed loves. That's also the core of "Patron of the Arts."
Of the stories we're covering here "Patron" has aged least well. It's not bad, but it's very male-gazey, and it's not surprising it's the least remembered of the batch. William Rotsler is also the least remembered writer; in the SFF world his claim to fame is having drawn the cartoon that inspired Harlan Ellison to write "I Have No Mouth and I Must Scream." (Which also makes Rotsler responsible for "Goat Song." Thanks, I guess?)
"Patron" is a character study of Michael Benton Cilento, an artist working in "Sensatrons," from the POV of a patron who hired Cilento to make a Sensatron portrait of his wife. Sensatrons are an innovative new medium combining high-definition holographic video with "alpha and beta recorders, the EEG machines, the subtle heartbeat repeaters" modeling the subject's inner life, and project the artist's intangible, ineffable interpretation of that subject directly into the viewers' minds. In practice, they're used mostly for pictures of naked ladies. It's worth noting that William Rotsler had a day job in the porn industry. That said, this is very well written. It doesn't baldly describe a plot; it spends time on conversations with Cilento about how he works and his ideas on the nature of art. It's this surplus-to-plot-requirements stuff that gives a story thematic depth, something too many SFF writers forget even today.
The narrator's marriage is more of a business partnership than anything. They get along fine, but his wife is more important to him than he is to her and when Cilento comes along they fall for each other. Cilento has been experimenting with some sort of teleportation technology. The narrator discovers the lovers have disappeared together into a Sensatron depicting an alien landscape. Technically this is a happy ending, for the two lovers. But it's an offstage happy ending. All we actually see is the narrator's bemused loneliness.
"When We Went to See the End of the World"
Like "KIngdom by the Sea," "When We Went to See the End of the World," feels so much like life feels right now. I find Robert Silverberg's work inconsistent. Sometimes I don't understand why he used to be so popular. But sometimes one of his stories just hits me, and "When We Went" is one of those. It's depressed and anxious and brilliant.
"Nick and Jane were glad that they had gone to see the end of the world," it begins, "because it gave them something special to talk about at Mike and Ruby's party." Nick and Jane's circle are well off, but probably not in what we'd call the one percent: Mike and Ruby's house is grand, but sounds like the kind of overdone McMansion owned by people who aren't as rich as they like to pretend.
Trips to the end of the world are the latest fad. You time travel forwards and watch the literal last moments of life on Earth. Nick and Jane declare how moving it all was. They don't sound moved, just politely enthusiastic, like they saw a pretty good movie. Nick hopes one friend's wife will find him interesting enough to agree to meet at a motel. He's a bit put out to discover he's not the only one who's taken the trip. Everybody saw a different apocalypse—it seems these are all potential futures. Nobody's more than mildly curious about this.
After Nick and Jane tell their story, the hosts' son comes in to announce the east coast has been told to boil their water because of mutant brain-eating amoebas. His parents tell him to go to bed. Between one-upping each other with their apocalypses the partygoers briefly acknowledge other recent news. An earthquake just sent a big chunk of California into the ocean. Nuclear explosions are a regular occurrence. So many Presidents have been assassinated that the national days of mourning are starting to effect the economy. The story doesn't make a big deal about any of this because Nick and his friends don't make any big deal. It's background noise. In the middle of a paragraph about who's dancing with who, unremarked upon: "Far away there was the sound of an explosion." These things are happening to other people, somewhere else.
But are they? As the story progresses we learn one of Nick's friends has a broken leg from a routine mugging. Another is in financial trouble because terrorists blew up his business (are these people actually rich, or living on credit?). The amoebas have already spread to the Great Lakes. Everyone's dancing past the graveyard, grasping at any distraction, because looking the apocalypse in the face is scary. But constant apocalypse is also boring. "No one was talking about time trips now. The party had moved beyond that point."
These days a new disaster comes along every week. A coup attempt in Washington? Old news. Accelerating climate change? The new normal. A worldwide pandemic? Bored now. It's startling how fast we forget. And I'm not just talking about the Nicks and Janes of the world, here; even the left gets briefly outraged by each crisis but never gets around to taking effective action. An apocalyptic collapse of civilization is both imminent and abstract, something very close which we can't convince ourselves will ever affect us, because we're distracting ourselves with—
Well, we're science fiction fans, aren't we? We distract ourselves with dystopias. City-levelling superhero fights. Zombie apocalypses. Colorful stories about the end of the world.
"The Fifth Head of Cerberus"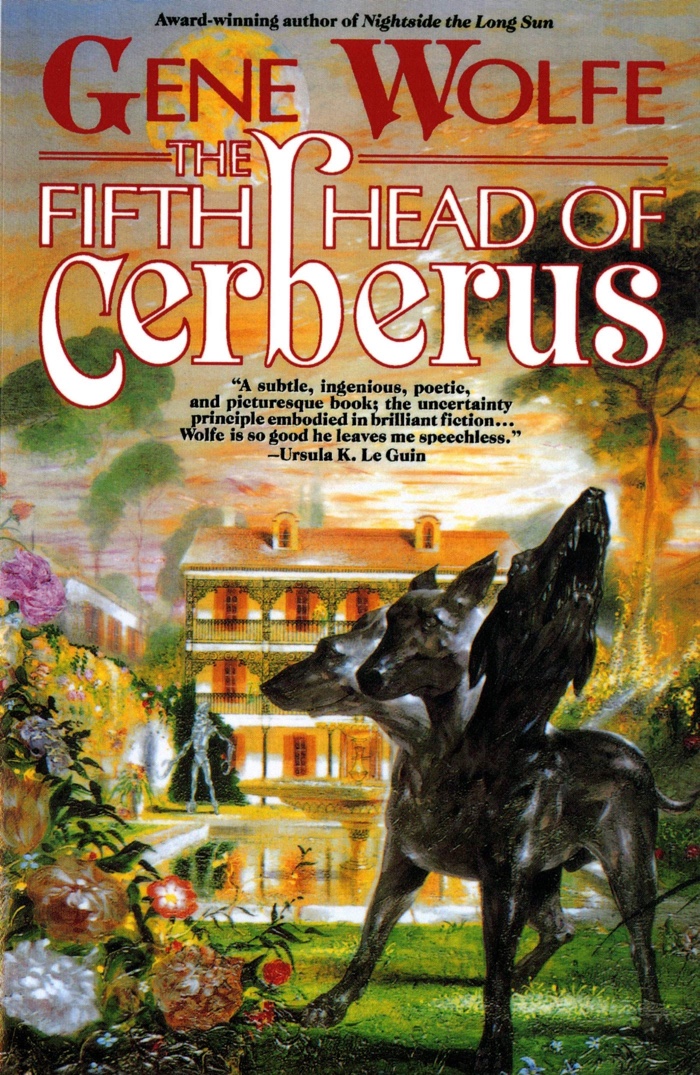 Gene Wolfe's trademark is the unreliable narrator. Wolfe's narrators don't understand the audience they're writing for; or, at least, their audience isn't the real people who are actually reading. Often they seem to write only for themselves. Wolfe's narrator's don't know what we don't know. They don't know what they don't know. You have to read for what they aren't saying as much as what they are; what they don't notice or don't think needs explanation. Wolfe is dense. Every paragraph says more than it says on the surface. This is unusual in SFF, which has always favored text over subtext. It's even more striking now, when more than ever genre fiction is anxious to explain everything, lest it be misunderstood.
The unnamed narrator of "Cerberus" writes to understand himself. At one point he recalls a dream. He's on a ship captained by his father. It's not moving. The narrator's aunt is in the dream, too, and he asks her why. She says, "It doesn't move because he has fastened it in place until he finds out why it doesn't move."
The narrator lives on the twin colony planets of Saint Anne and Saint Croix, which deliberately resemble an 18th or 19th century French colonial society. Like historical European colonies, this is land stolen from a native civilization, a race of shapeshifters who eventually died out. Maybe. Sort of. There are rumors that the natives rebelled against the human invaders and replaced them.
The narrator's father is a distant man accompanied by an injured monkey. He runs a brothel to fund his scientific investigations. Every so often he calls the narrator to his lab to run odd psychological tests. Otherwise the narrator is raised by a robot named Monsieur Million whose head is a monitor screen with his father's face.
The narrator starts having memory lapses. (At a certain point Wolfe starts using these like blank lines, as scene breaks.) After one gap the narrator encounters a monkey resembling his father's pet. No, he's told, this is one he recently adopted himself. He accepts this without protest.
Outside the narrator's home is a three-headed statue of Cerberus. He imagines a Cerberus with five heads, representing his family: himself, his father, his brother, and M. Million. But it's appropriate that the statue has three. The narrator, his father, and M. Million are, in a sense, the same person. It becomes clear, though the story is never so gauche as to infodump it, that the narrator is the latest in a series of clones of the scientist who once uploaded himself into the body of M. Million. All were raised as similarly as possible to ensure they become, as closely as possible, the same person. All eventually kill and replace their "fathers," just as the native shapeshifters became and replaced their human conquerors. (Maybe the clone family are the only humans on the planet.) M. Million has colonized his own descendants, replicating himself exactly. He's trying to reach some unfulfilled potential. Instead his descendants can't break out of the pattern he created.
The heads of Cerberus don't know how to change. The natives of Saint Anne and Saint Croix did, but they just changed into their colonizers.
How Can They Miss Us When We Won't Go Away?
"Cerberus" is a good segue to our second major theme: colonialism. "Basilisk" was about the effects of colonialist war on the invaders; "The Word for World is Forest" is about its effects on the people invaded. As in way too many old space operas, what we have here is a mid-twentieth-century male chauvinist, militaristic, colonialist future—but this time done mindfully. Le Guin is reacting to Vietnam in metaphor.
Human colonists have enslaved the natives of Athshe, a forest planet. (Earth needs wood!) Le Guin filters half the story through Captain Davidson, who thinks of women as commodities; and of the Athsheans as lazy, degenerate "Creechies;" and whose favored solution to any problem is to kill a few Creechies pour encourager les autres. Davidson's personality comes out in the prose. He's careless, thinking in vague generalities ("trees and stuff"). He keeps thinking that one trait or another is "the way he was made" because for him everything is nature, nothing nurture.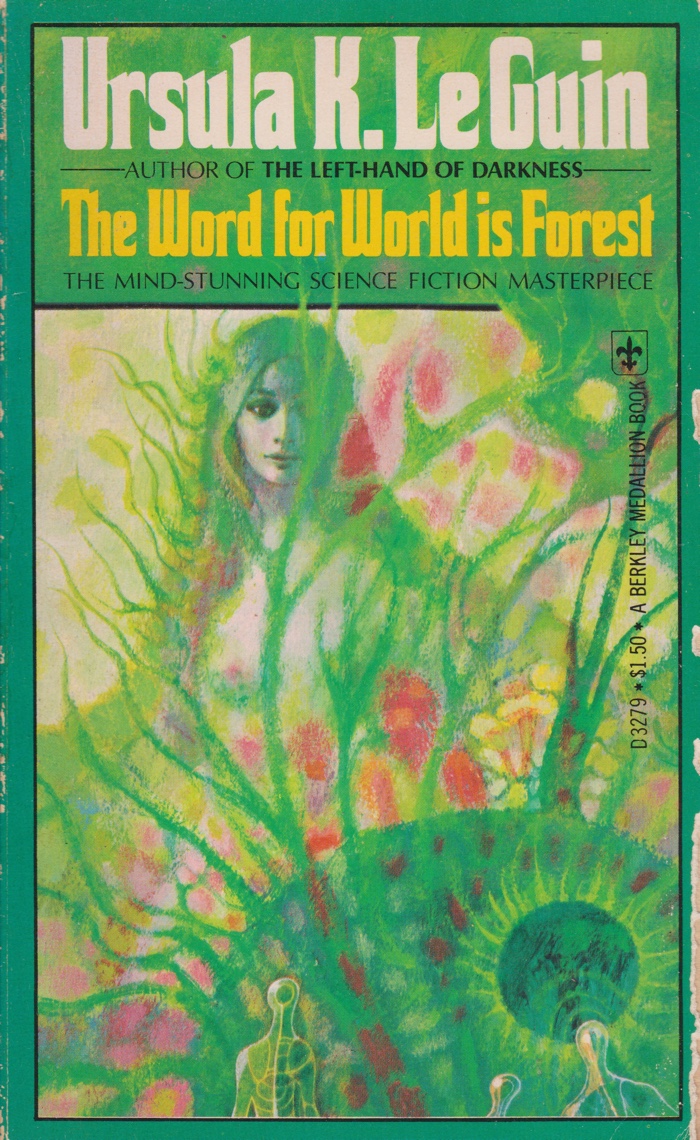 This is all very blunt, uncharacteristically for Le Guin; in an introduction she wrote for the novella she ruefully admits "I succumbed, in part, to the lure of the pulpit." But it's still amazing writing. The chapters in the point of view of Selver, Davidson's Athshean opponent, are distinct, calmer and more sensitive to the environment. There are casually brilliant images. Like: "Little paths ran under the branches, around the boles, over the roots; they did not go straight, but yielded to every obstacle, devious as nerves." Which tells us the Athsheans see the forest is a living entity, with a nervous system; and that in their culture yielding to and routing around obstacles is wise behavior. And devious is an unexpected but perfect adjective for nerves, suggesting both twisting and winding, and intelligence.
For the Athsheans a god is a person who brings a new idea into their culture and "Forest" is the story of how Selver becomes a god. Up to now, the Athsheans were pacifists. They don't kill people. Selver realizes this will need to change, learns violence from the humans, and goes scorched-earth on Davidson's settlement. It's a pyrrhic victory; the Athsheans win, but they win by becoming like their invaders.
Davidson becomes a god, too. Facing death, he instinctively assumes the posture he's seen Athsheans use to defuse potential fights: he lies down and bares his neck. But he doesn't really understand what he's done; he hasn't learned anything. Davidson, the representative of 1970s America, may be incapable of learning or changing. He can only be quarantined.
"The Gold at the Starbow's End"
In the United States of "The Gold at the Starbow's End" both social and technical progress have ground to a halt. The population is in a permanent state of protest. They have a lot to protest about. Humanity has pretty much lost the ability to run a civilization and society is breaking down. By the end of the story the President is a lunkheaded used-car-salesman type and Washington is permanently flooded by human-caused environmental disasters. Again, from a 2021 perspective this feels… weirdly applicable.
Dr. Dieter von Knefhausen figures the problem is that everybody's stopped doing basic research. People look for tweaks and technological refinements that could lead to short-term profits, but nobody's coming up with really new ideas, either scientifically or philosophically. So Dr. Knefhausen picks the brightest people on Earth and launches them into space where they'll have nothing to do but think. His plan goes righter than he could have imagined, in the worst possible way. Messages from the starship get weirder and harder to understand. To Knefhausen's consternation, the astronauts start experimenting with the I Ching and indecipherable mathematical languages. They're developing something called Farsight and they've figured out how to regrow body parts and one of them is sort of dead but not really. As the story ends "bright, terrible" posthumans descend in golden ships to reenact the lyrics to "Oh, You Pretty Things."
In the last essay I noted that Arthur C. Clarke's "A Meeting With Medusa" sees evolution as teleological, and takes it for granted humanity must inevitably be replaced by their posthuman space cyborg descendants, "creatures of metal who must one day supersede them." Here human society is stuck, static; to change, humanity has to create a powerful outside force to colonize itself. But the colonizers first destroy what's left of civilization—they're the ones who caused those environmental disasters. The posthumans will repair the Earth, but it's anyone's guess whether we'll recognize what's left when they're done.
"When it Changed" and "And I Awoke and Found Me Here on the Cold Hill Side"
SFF appears to be questioning whether any two cultures can meet without one destroying the other. Joanna Russ' "When it Changed" depicts the moment the planet Whileaway, with a population of entirely women, reestablishes contact with Earth. It's a brief story with room to sketch Whileaway only in broad strokes, but it's still vivid. It's not a utopia, but it's a good, workable society. But the narrator suspects Whileaway can't survive contact with men; certainly, the men who've arrived on Whileaway are condescending and obtuse. Partly this is an expression of the separatist vein active in second-wave feminism in the seventies; partly it's a metaphor for how men relate to women with the genders represented as planets. Patriarchal society hasn't learned anything in hundreds of years. Earth will inevitably fail to see Whileaway as an equal, and Whileaway will be consumed.
Like a lot of James Tiptree's stories "And I Awoke and Found Me Here on the Cold Hill Side" is about what people do for love. It's also about cultural capital—about what people do to get close to glamor, to power. Earth has joined the wider universe. Humanity is a backwater hick getting its first glimpse of Hollywood, and it's fascinated by aliens. They're attractive. They're richer than us, more powerful and influential, and that makes them attractive. Humans want to get close to glamor even if it hurts, which it does because these guys have totally different reproductive systems and sleeping with them is like trying to interface an accordion with an eggbeater.
"We're gutting Earth, to begin with," says the disillusioned maintenance worker being interviewed by the narrator, a journalist on his first trip into space. "Swapping raw resources for junk. Alien status symbols. Tape decks, Coca-Cola, and Mickey Mouse watches." The humans of "Awoke" are, like the shapeshifters and the Athsheans in "Cerberus" and "Forest," letting a hegemonic alien culture displace their identities. Like the Americans in "Starbow," the humans of "Awoke" can't imagine their own future, instead borrowing the one offered by their golden, shining neighbors.
The maintenance worker tries to explain this to the journalist, but doesn't get through; the story ends with the narrator chasing after his first real aliens. Again, we have a narrator who fails to learn anything.
It feels like SFF has given up.
On the evidence of the stories they nominated, how was the English-speaking SFF world feeling in 1973? Well, we'd screwed everything up. And the problems we'd created weren't fixable, or at least we weren't going to fix them, anyway. The people America kept invading might get somewhere, although more likely they'd just turn into more stupid assholes like us.
When the (mostly American) fans nominated these stories, the U.S. had just finished losing a war they shouldn't have fought in the first place, and the Nixon administration was imploding amidst the Watergate scandal. They make interesting reading at a time when America is even more nonfunctional, largely due to societal flaws that were obvious by 1973 but that we never bothered to fix after Ronald Reagan came along to assure us everything was fine.
The stories of 1973 are great, but bleak. They're futures where no one learns, where humanity is doomed to make the same mistakes forever. Where different people can't come together, on the personal or societal level, without one hurting the other. Right-wing critics sometimes complain 21st century SFF is too downbeat but, people, it's got nothing on 1973.
Sometimes SFF touches on ideas outside any real-world context, like post-singularity utopias, four-dimensional life forms, and minds so alien we have no frame of reference to understand them. This creates technical problems, because how do you describe the indescribable? A detailed post-singularity future is bound to come off as bathetic, like those old pulp stories where it's 900 years in the future and a computer is still a warehouse full of vacuum tubes. Writers usually deal with these concepts like low-budget horror movies deal with their monsters—keeping them offstage, describing them as little as possible, letting the readers imagine what is beyond imagining. It's interesting that the most obvious thing these stories keep offstage is their most traditionally happy ending, the one the lovers in "Patron of the Arts" get. An ordinary happy ending is as indescribable a possibility as utopia.