Half the posts on this blog begin by apologizing for not posting much. This is one of them. I spent 2016 increasingly preoccupied with and anxious about the news, then really preoccupied and anxious when the country decided to drive itself off a cliff, a situation for which my entire coping strategy consists of making the occasional dumb joke. My attention span has not been great and what books I've been able to finish include a lot of comfort fiction–game tie-in novels, mediocre Sherlock Holmes pastiches–that hasn't inspired interesting thoughts.
So I need to occupy my mind and get it back into shape. Which means reading more seriously again (which is not always the same thing as reading books that are Serious, although this one is, a bit).
I have a shelf of unread NYRB Classics, a series with a good hit rate. So to distract myself from the news I picked up Anna Seghers's Transit, a novel about a refugee crisis and the threat of fascism. I may not be very good at this.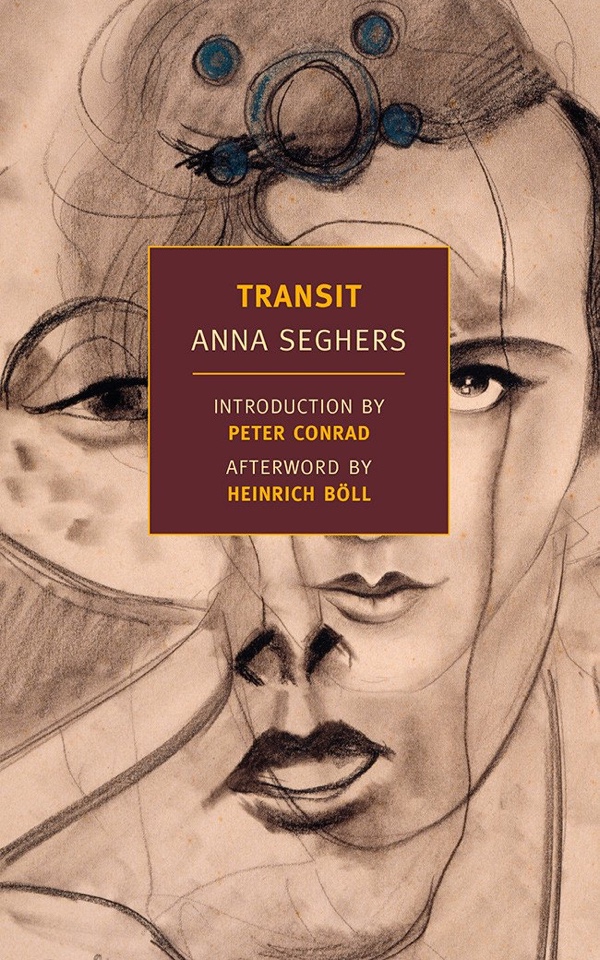 Transit is set in 1937; the narrator escaped from a German concentration camp, and then a French prison camp, and finally washed up in Marseille under the name Seidler. (We never learn his real name.) Seidler is asked to deliver a letter to a writer named Weidel, who turns out to have killed himself. Seidler tries to deliver Weidel's effects to the Mexican consulate–Weidel was trying to escape to Mexico, and Seidler figures the guy's wife is already there. But the consulate staff think he's Weidel and start arranging for his visas. Meanwhile, Seidler notices a woman who keeps showing up in the same cafés looking like she's searching for someone. It's Weidel's wife, Marie. People keep telling her they've just seen her husband.
Seidler is oddly unconcerned at being one step ahead of the Nazis; he doesn't feel fear until late in the novel upon seeing a few in a local hotel. Danger bores him: "Aren't you sick of all these suspenseful tales about people surviving mortal danger by a hair, about breathtaking escapes?" he asks. Seidler would rather hear about everyday life: work, ordinary things. Some days when I know what he means.
Marseille is the last stop on the Continent for people on the way to Mexico, or Lisbon, or Brazil, or anywhere they can reach. What interests Seidler's fellow refugees are visas, what you might remember from Casablanca as "Letters of Transit." Refugees need a lot of visas. They need a visa to live wherever they're going, and an exit visa to leave France, and a transit visa to pass through the countries in between. They all take effect and expire at different times, and if a refugee wants to move on–and avoid ending up in an internment camp–the dates have to line up exactly like the tumblers in a lock. Seidler just wants a residence permit that will let him stay in Marseille without getting arrested. France will only renew it if he's working on getting a visa. So Seidler can only stay if he shows he wants to leave. It's like somebody hired Franz Kafka to work on a prequel to Casablanca.
Transit as a whole is less interesting than this summary suggests. Not that the parts I just summarized aren't fascinating. But Seidler is less interested in this stuff than he is in Marie. Marie appreciates Seidler's friendship but isn't that into him. Despite this he spends hefty chunks of novel obsessing over her, and feels aggrieved when she associates with another refugee, a doctor.[1] So Seidler tries to help Marie, but he's trying to help her in some way that means he'll leave with her, or she'll stay with him, or at least she and the doctor will leave at different times. And he never quite tells her the truth about Weidel.
This plot–the man who fixates on a woman who isn't mutually attracted and badgers or manipulates her until he gets the relationship he wants–drives me up the wall when reflexively dropped into a story by a writer who unthinkingly assumes this is what romance looks like. That's not a problem Anna Seghers has–it's not the main point of the novel and Seghers doesn't put up a flashing neon sign to make sure every reader Gets It, but in the end it's clear even to Seidler that he's been wasting Marie's time as well as his own. He's looking back on his obsession with a certain amount of ruefulness. But if I wasn't as bothered by the specific implementation of this plot as written by Anna Seghers, I was still impatient having to read through it.
In recent years a lot of online criticism–some of mine included–has poked at and mulled over plots and plot elements that treat as normal attitudes or stereotypes we'd like to get away from. Earlier I used the word "reflexively," and that's key–these plots are default narratives. They usually worm their way into stories when writers go with their first thoughts without moving on to the second. They define and reinforce stereotypes because they're ubiquitous and rarely challenged by alternatives.
That ubiquity has an interesting side effect–or maybe an uninteresting side effect. Let's assume for a moment you're not interested in the question of whether stories reinforce stereotype or normalize dubious attitudes. When I see an argument take this turn, a question occurs to me that I never see asked or answered. Maybe you don't care about the politics, but once you've seen the same plot unendingly reiterated in the same pattern in all corners of pop culture… at a certain point, aren't you bored, as Seidler is with the suspenseful tales he's heard from every fellow refugee? I was impatient with Transit not because Seidler is an entitled ass–it's not like the novel rewards him for it. But he's entitled in a way I've already seen in all kinds of older[2] fiction–novels, movies, every possible genre. The obsessed wannabe lover plot can be, and has been, dropped into any genre, format, or situation. It never changes, never tells us anything new.
This is my problem with, as we say nowadays, the problematic: when writers turn to these ancient chestnuts it's usually in lieu of some more specific and interesting things they could have done if they'd had a second thought. When Transit foregrounds the obsession plot it's not attending to the specific circumstances it's set up or the unique questions and thoughts they might lead to. Seidler is thinking about Marie, or trying to arrange Marie's life, while actually interesting things go on off to the side. That's one of the points the novel is making, but this point is less interesting than what gets shoved into the margins to make it.
Having spent several paragraphs on that complaint… I still wouldn't call Transit a bad book. When it focuses on its actual subject, it's great. First, it's an interesting window into a different world. Seghers was a refugee herself and wrote the novel not long after her experience, so the details of time and place are authentic–I was struck by Seghers's description of pizza as an exotic novelty: "It's round and colorful like an open-face fruit pie. But bite into it and you get a mouthful of pepper." On a larger scale it's remarkable that the world is falling apart–a foreign army has occupied the country, people are lining up to buy sardines, everybody's juggling paperwork trying to avoid getting arrested and thrown into internment camps–yet everyone is so composed. People go to work, hang out in cafés, visit their lovers, and calmly discuss how they plan to flee the country. The greatest emergency of their lives is the new normal.
At the same time Transit has an allegorical streak. The first thing Seidler tells us is that he's heard a refugee ship sank, and there may or may not be survivors, and a couple of people he knew were on board. Once the novel gets going it isn't hard to guess who those people will be. Before then, though, Marie is already talking about Mexico as though it's the afterlife: "When it's all over, will there finally be peace as the doctor believes? Will we see each other again over there?" She hopes to see the husband she still doesn't realize is dead. Seghers herself fled to Mexico to escape the Nazis. Maybe the upheaval really felt like the end of one life and the beginning of another. Seghers compares Seidler's existence as a refugee in Marseille, his time in transit, to his life: uncertain, contingent, subject to absurd rules. In more than one sense he's just passing through. His biggest problem is figuring out where and when he needs to stop moving.
But the best reasons to read Transit are the stories of the refugees Seidler meets, the ones he resents having to listen to. The woman who agrees to babysit two Great Danes so she can get a visa to deliver them to their owners, the couple who can't work out compatible dates for their visas and alternate getting arrested, the family who decide to risk staying in France so they won't have to abandon their dying grandmother… every chapter has a fascinating little story about a life sliding into absurdity. On the whole I'd recommend Transit, I think, if it sounds like your kind of thing. Just be prepared to skim a lot.
---
We never learn the doctor's real name, either, and I spent the whole book imagining him as Peter Capaldi.  ↩

I think the "sympathetic stalker" plot is starting to die out. I mean, there's that recent movie Passengers–when I heard the premise I immediately guessed the twist, then thought "Nah, they wouldn't." Except they did. But the encouraging thing is that the critical reaction has been almost unanimously "What were they thinking?"  ↩